The iWatch has become one of the most talked-about gadgets ever, and it doesn't even exist yet!
Apparently, Apple has a team of more than 100 engineers, software developers, managers, and marketers working to create a watch that will act similarly to the iPhone and iPad.  The group is supposedly being led by former Adobe Chief Technology Officer Kevin Lynch, but of course, in true Apple fashion, everything is being done in secret.  In fact, the company hasn't even confirmed that a smart watch is in the works!
But they've come close.
Bill Campbell, an Apple board member, recently spoke at Intuit and mentioned how "intimate" watches are.  He then went onto say that Apple is going to start moving towards more "intimate things".  It's not an actual confirmation, but it's as close as you're going to get!
So, what will the iWatch be capable of?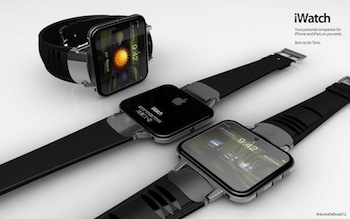 We don't know for sure (even a cost is completely up in the air!), so all we can do for now is speculate.  Supposedly, Apple's smart watch will have its own iOS, which would explain why Lynch suddenly joined the Apple team.  (And, it means that the iWatch would be more sophisticated than the iPod!)  There's also reason to believe that it will come with low-energy Bluetooth.  After all, if you couldn't connect it to your existing gadgets, there wouldn't be much point in having it!
There's also talk that the iWatch would include a fingerprint sensor – a first in the gadget world.  That way, you could do things like make credit card payments right from the comfort of your own wrist, without having any privacy concerns!
However, all of this means it's got to be chock full of tiny technology.  In fact, the face would have to be smaller than the iPod Nano if it's going to be comfortable!
And speaking of comfort, rumor has it that the iWatch will be made out of curved glass.  That way, it would fit comfortably around your wrist.
As advanced as the iWatch could be, it wouldn't be the first type of wearable technology to hit the market.  Samsung, LG, and Microsoft have all officially confirmed that they're working on smart watches of their own, and Google already owns a smart watch patent.
And speaking of Google, they're working on another type of technology called Google Glass.  This tiny prism display will fit right over your eyeline so that you can simply glance up and have access to state-of-the-art technology.  With a release date scheduled before the end of 2013, Google Glass is almost certain to hit the market before the iWatch would.
It's an awful lot of talk for a teeny-tiny product, but it looks like it could finally be time to get on "iWatch watch"!
Unlock achievement code is iwatchcode
So, What do you thing the time is there for an iWatch? Speak your mind by commenting and sharing.